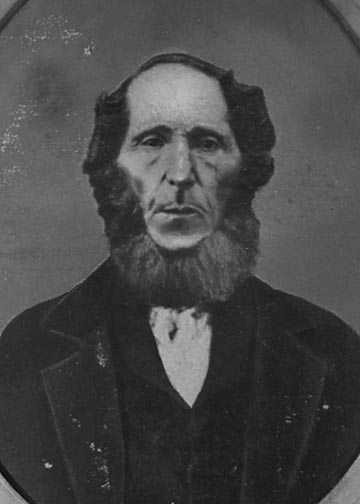 Capt. Abner Finnell was born along the Paint Lick Creek in what was then Madison County, Kentucky, Abner settled in the forks of the Chariton River when Missouri was still a territory. He married Rebecca Jordan Parks in Chariton County, Missouri, on 22 October 1826. Together they had 14 children, four of whom died young. The last of Abner and Rebecca's surviving children, Milt, died in 1946 in Kansas City.
In 1826 Abner began teaching at one of the earliest schools in Salisbury township, located in the southeast quarter of section 19, on what is now Windmill Road, near New Hope cemetery.
In the Big Neck War of 1827, he served as an elected officer in the local militia company commanded by Major Daniel Ashby. His title of Captain dated from this military experience.
In 1829, Abner purchased 80 acres of farmland in Township 53 North, Range 18 West, Section 22 (eastern half of southwest quarter). This land is just off what is now Bill Bass Avenue, southwest of Price's Bridge. In the 1876 atlas of Chariton County, these 80 acres were owned by R Lewis. On the 1915 Land Ownership Map, this land had been split and was owned by J N Stephenson and J D Lunsford. On the same 1915 map, Abner's daughter, Diantha, and her husband, Grant Burge Hurt, lived on the southeast corner of Bill Bass and State Route VV. On both maps, Abner's son, Jasper Newton Finnell, farmed 100 acres where Rockford Hills Avenue curves to the east.
Abner was murdered late in the Civil War. With Sterling Price's Confederate army retreating across Missouri and Rebel partisans such as Bloody Bill Anderson dead or dispersed, Northern militia felt emboldened to settle old scores with the Southern citizenry in Chariton County. Coming from slave holding families and having sons in the Confederate army, Abner and many of his neighbors were likely targets.
On 31 October 1864, Northern troops visited Finnell's farmhouse, asking for food and water. When Abner's 11-year old daughter, Diantha, went inside to comply with their wish, Abner, discerning the soldiers' real intentions, sprinted for his barn just across the road. The soldiers pursued him on horseback and shot him through the head. He was unarmed. According to family lore, Abner's youngest children witnessed their father's death.
Finnell was one of several local citizens, mostly old men and boys, killed by the 39th Missouri Infantry Regiment, a Federal unit commanded by Colonel Edward A Keutzner and charged with pursuing Southern partisans and with stamping out civilian support for them.
Only days before they were themselves murdered, Abner and Moses Hurt cut down the body of a neighbor boy, James Stark, who had been hung by the 39th for not divulging the whereabouts of his father.
Abner was originally buried in the family graveyard near his farm (Finnell Cemetery #2). After the war, his body was reinterred in newly established Asbury Cemetery to join his children and relatives.
At the time of his unexpected death, Abner owned 286 acres of farmland in Keytesville township. He died without a will. By law, his widow, Rebecca, received 1/3 of Abner's land. She continued to live at the Finnell home until her death. The rest of Abner's real estate was divided among their children.
The Finnell house no longer stands. That section is now owned and farmed by Norbert Gebhardt.
(Shared from Abner Finnell's FindaGrave memorial #6951646 with permission of David Finnell)