DANIEL ASHBY – an amazing pioneer!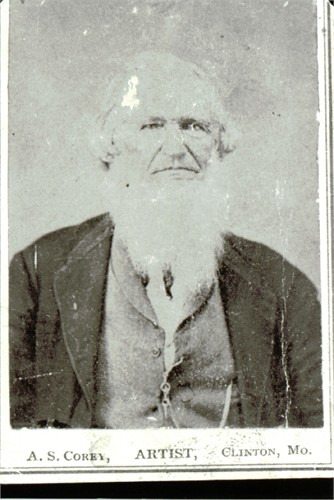 Daniel Ashby was an early resident of Chariton County, MO, settling on the bluffs overlooking the Chariton River bottom.
Born in Virginia, Daniel grew up on the Salt River in Mercer County, Kentucky. As a young man, he served as sheriff of Hopkins County, Kentucky, where he married his first wife Cassandra Leeper. The young couple left Kentucky for the Missouri territory in the fall of 1818.
In Ashby's recollections of his early years in Missouri, he described the cordial relationship he had with the Iowa tribe in the area. He traded with them, spoke their language, and, being a talented runner, won several foot races against Indian braves.
In 1827 Ashby led a company of local militiamen in a short lived Indian uprising known as the Big Neck War.
The "Hooser mill incident" demonstrates Ashby's courage and sense of justice. The portable Hooser mill was intended for the general use of settlements along the river. However, a small group of men began operating the mill exclusively for their own benefit. When he learned of this underhandedness, Ashby confronted the men. He threatened to cut the rawhide belt that turned the mill's grinding wheel. The leader of the group proffered a knife and dared him to do so. Ashby dismounted, grabbed the knife, cut the belt in half, and departed, unmolested. As he rode away, Ashby called back: "I consider the whole set of you a pack of unprincipled scoundrels who dare not resent any insult a gentleman may think proper to pass upon you."
Civic minded, Ashby served on the first county court and in both the state assembly and senate in Jefferson City. President Van Buren appointed — and President Tyler reappointed — him receiver of public moneys in the land office at Lexington, MO.
In census returns for 1850 and 1860, Ashby is living in the Grand River township of Henry County, MO. In the 1870 census return, he is a resident of Prairie township, Chariton County, MO. With him is his fourth wife, Idress, and two young children, John and Sam, from his marriage to his third wife, Henrietta, who died in 1863.
In 1877, the year before his death, this hardy and well-respected pioneer was honored at The Old Settlers' Reunion in Keytesville, MO, where he was compared to Daniel Boone.
[Source: the 1883 history of Howard and Chariton counties]
Daniel Ashby's
Findagrave.com
memorial #14133914. He is buried in the Old Asbhy Cemetery – on a hill overlooking the river bottoms.
He and Robert Anderson Younger share the grave marker. They were both husbands of Idress Elizabeth Craig.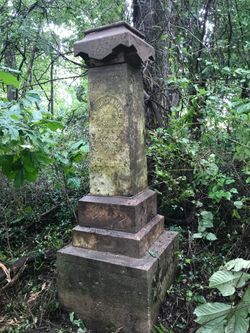 Our genealogy library has a more detailed history of his exploits and experiences.