Joseph Phelps, Army General
Aug. 27, 1898-July 17, 1981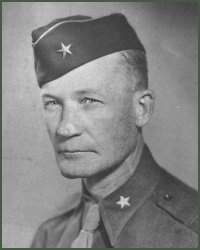 Joseph Vincil was born in Salisbury, Missouri on August 27, 1898, the son of Toddie V. and Nannie Adams Phelps. Before entering the Military Academy on June 14, 1917, he attended schools in Golden, Colorado, as well as several in Missouri, graduating from high school in Salisbury. Numerous school changes did not seem to deter him as indicated by his success as a yearling math instructor at West Point five years after graduation.
As a cadet he was always known as "Joe", a tribute to his modest disposition, but he was very positive with withal, willing to stand up strongly for his beliefs. He was a good student and would have stood even higher in the class if the course had not been shortened to two years. He graduated early with the class on November 1, 1918 expecting to be sent overseas in World War I, but the Armistice ended all that; the class was ordered back as student officers for a post graduate course. In June 1919 the second graduation took place, after which the class was given a European tour of the battlefields of France, Belgium, and Italy and occupied Germany.
Second Lieutenant Phelps was assigned to Field Artillery. After Basic Artillery School a Camp Taylor and Camp Knox, he served in many capacities related to Field Artillery, first in the 4th Field Artillery armed with mountain guns at Camp Stanley, Texas. A modified version of the same weapon turned out to be the armament of the 17th Airborne Division Artillery, his command in World War II with which ended his active combat career. Throughout his career he had experience with all types of artillery – pack, horse drawn, motorized and airborne. He also had a Reserve Officer Training Corps assignment as an artillery instructor at Alabama Polytechnic Institute at Auburn for five years.
His military school included Field Artillery Basic School at Camp Taylor and Camp Knox, Kentucky (1919-1920), Field Artillery Battery Officers Course at Fort Sill, Oklahoma (1928-1929), Command and General Staff School at Fort Leavenworth, Kansas (1937-1938), and Advanced Field Artillery Commander School, Fort Sill, Oklahoma (1940). He was granted credit equivalent to National War College in 1947.
General Phelps progressed through the grades from Second Lieutenant to Brigadier General. On March 18, 1943 he became Artillery Commander of the 17th Airborne Division, a position he held throughout World War II, participating in combat in the Ardennes Campaign, the Battle of the Bulge, and in the air drop across the Rhine at Wesel.
His service brought him well deserved decorations including the Silver Star, Bronze Star, Legion of Merit and the Presidential Unit Citation. After the war Joe had several short tours: first as Assistant Budget Director, War Dept.; at Fort Bragg, N. Carolina, with the Field Artillery Board; then at Harrisburg, Pennsylvania, with the National Guard where, after distinguished service, he retired as a Brigadier General in 1949. His service brought him the Distinguished Service Medal of the Commonwealth of Pennsylvania.
From the Washington Post.
Joseph Vinvil Phelps, who was born in Salisbury, Missouri, was a 1919 graduate of the U.S. Military Academy at West Point. He later graduated from the Army's Command and General Staff School. Among his assignments before World War II was teaching mathematics at West Point.
Army Brig. Gen. Joseph V. Phelps, 82, was a decorated combat veteran of World War II. He retired from active duty in 1949. At the time of his death he was a resident of Talbot County, Md.
Gen. Phelps was promoted to brigadier general in March 1943 and was named artillery commander of the 17th Airborne Division. The division fought in Europe, taking part in the Ardennes campaign and the crossing of the Rhine, and received a Presidential Unit Citation.
Gen. Phelp's won the Silver Star and Bronze Star medals and the Legion of merit.
After the war, he was an assistant budget director at the old War Department and served on the board of the Army ground forces.
At the time of his death in 1981 he was survived by his wife, the former Marion Duvall Hoffman, of St. Michaels, a daughter, Pattie P. Woodbury of Little Compton, R.I.; a son Joseph V. Jr., of Fayetteville, N.Y.; seven grandchildren, and six great-grandchildren.