Rear Admiral Paul A. Holmberg
April 18, 1915 – July 27, 1986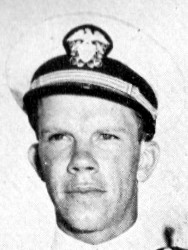 Paul Algodte Holmberg was born in Stanberry, Missouri April 18, 1915 to John Peter and Hilma Augusta Johnson Holmberg. John P. Holmberg, a track supervisor for the Wabash Railway was soon transferred to Brunswick, Missouri where he moved his family and remained for the rest of his life.
Paul attended all 12 years of grade and high school at Brunswick. He graduated high school in 1932 as Valedictorian of his class. He attended the University of Missouri for three years as an engineering major before being appointed to the Naval Academy. He graduated from the Naval Academy in 1939.
Before being sent to combat in the Pacific, Paul married Louise Morgan Gallagher of Coronado, California.
After flight training Paul served as pilot of a carrier-based Navy Dive Bomber of Bombing Squadron Three (VB-3) attached to the USS Yorktown (CV-5). During the air battle of Midway, against enemy Japanese forces on 4 June 1942, as a Douglas SBD dive bomber pilot, Lieutenant Junior Grade Holmberg scored the first hit on a Japanese aircraft carrier which resulted in the sinking of the carrier. For this action he was awarded the Navy Cross.
After the USS Yorktown was sunk at the Battle of Midway, Paul was transferred to the carrier USS Saratoga. On 24 August 1942 during the battle for Guadalcanal, he scored a direct hit on the Japanese light carrier Ryujo which helped sink the carrier. For this action he was awarded a Gold Star in lieu of a second Navy Cross. He was also awarded the Legion of Merit and Navy Commendation Medal.
After that campaign Lieutenant Holmberg left VB-3 and was assigned to the Naval Air Station at Patuxent River, Maryland. He spent the rest of the war there working on research and development of naval aircraft and armaments.
In 1947 he received a Master's Degree in aeronautical engineering from the Massachusetts Institute of Technology.
From 1947 – 1950 he participated in the development of the Navy's pioneer Lark and Loon missiles as Missile Test Division Officer at the Naval Air Missile Test Center at Point Mugu, California.
In 1950-53 he was project manager for development of the Regulus 1 missile while assigned to the Bureau of Aeronautics in Washington, D.C. The Regulus 1 was the Navy's first nuclear-tipped, submarine-launched missile to achieve operational status in the submarine forces.
Another highlight of Admiral Holmberg's postwar career was responsibility for establishing the Pacific Missile Range in 1958. A part of this range known as the Western Test Range, is used for the testing of the nation's ICBM and ABM weaponry.
Admiral Holmberg reported to the Naval Air Systems Command in February 1967 as Assistant Commander for Research and Technology. He assumed duties as Vice Commander in October 1968 and held this position until his retirement in 1971.
Rear Admiral Paul A Holmberg died July 27, 1986 and was laid to rest in Arlington National Cemetery. He was preceded in death by his first wife, Louise Morgan Gallagher in 1980. Survivors included his wife Margaret, five children by his first marriage: Polly, Patsy, Kate, Martha, Christopher and five grandchildren. Charlotte, a sixth grandchild was born ten years after his death.
Our thanks to Lloyd Deierling for this information.