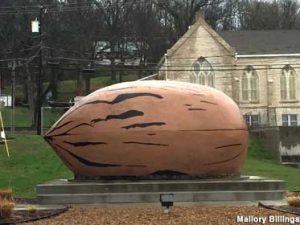 The former World's Largest Pecan still rules the Brunswick landscape. It surpassed
a self-proclaimed World's Largest Pecan in Seguin, Texas, then in turn was
surpassed by a slightly larger Seguin pecan in 2011. Despite its status as a runnerup, this big nut remains an impressive sight.
George and Elizabeth James ran their pecan farm on the outskirts of Brunswick,
Missouri, for nearly 60 years. In 1982 they built a concrete replica of their patented
Starking Hardy Giant pecan, a tasty strain discovered by George on the property in
1947. Today, the area is thick with pecan farms — the Brunswick Pecan Festival is
held every October.
The pecan sat in front of what was once the Nut Hut roadside stand, the James
home, and a couple of outbuildings. It weighs 12,000 pounds and is 7×12 feet. The
old postcard view was great — a wide angle, rendering the pecan bus-sized.
Flood damage, coupled with fading health [George died in 1998], took a toll on the
big pecan. We visited early one summer evening; the Nut Hut was closed, but the
pecan and its sign caught the bright rays of the setting sun.
An outer wall of the Nut Hut building featured one of our favorite cartoon sign
images: a mad, murderous hammer, with arms and legs, chasing a very sad giant
pecan.
We were told by George and Elizabeth's daughter, Sandy James Naylor, that the
hammer's name was "Wham," and was featured in a book her brother had written
— a book measuring 8 feet by 8 feet that was put on display for a time in the Nut
Hut.
With the passing of George and Elizabeth, the pecan farm was run for a time by
their children — but by 2010 the farm was closed and the land began being sold off.
The giant pecan was moved from the James Pecan Farm property to a more visible
roost in downtown Brunswick in 2013.
From: www.roadsideamerica.com